Losing's a bitch.
Losing out on what is probably your last chance must be ten times worse.
As fans of the Irish rugby team, today we hurt.
This morning was a crushing disappointment that we feel even more because it was unexpected, and because of the euphoric highs that preceded it.
Yet as fans, we will have another day, many more in fact.
The Irish people will cheer for us in World Cups in 2015, 2019, 2023 and so on.
Four years is a long time, but time does pass.
But when that happens, things change.
Players get old, some of them too old.
2015 will probably be a bridge to far for the likes of Paul O'Connell, Rory Best, Donnacha O'Callaghan, David Wallace, Gordon D'Arcy and Brian O'Driscoll who by then could be mere fans like the rest of us.
That list is not exhaustive – there may be more, but it may also be the case that some of those men hang on.
I imagine the manner of today's defeat, and the way it robbed Ireland's stars of a swansong on the global stage will perhaps induce second thoughts and a drive to continue.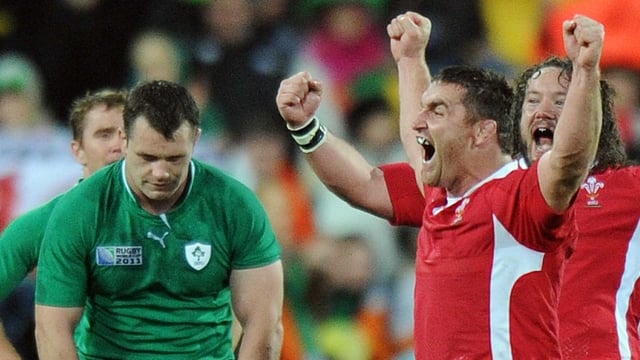 Some will go however, perhaps not straight away, but they will.
The Ireland team of the 2012 and 2013 Six Nations will look very different to the all-too-familiar squad of recent times.
It's still too soon for a post-mortem, when we don't even know who is leaving, but when change is most certainly coming, one thing has to be said – today is the most disappointing day any one of them will have experienced in an Irish jersey.
We have lost Grand Slam deciders, blown chances to beat Southern Hemisphere giants, even lost Quarter Finals before today.
However on virtually all of those occasions Ireland were underdogs, valiant battlers who attempted to stave off defeat.
Today, that was not the case.
We were a team poised to deliver the sport's finest hour.
Take into account the brilliance of the win over Australia, and the economic circumstances in which this country finds itself, and today's defeat is even more heartbreaking.
More so than on virtually any other occasion, today we knew that victory was tangible and realistic.
We could taste success, we could dream of a final, and yet it never came.
Perhaps it was nerves.
Perhaps it was a poor tactical performace.
Perhaps it was plain bad luck.
No matter really, because it was most certainly the most gut-wrenching defeat for an Ireland rugby team in many a year.
Look at Brian O'Driscoll's face in the
post-match press conference
.
In a word, it is grey.
He knows it as much as anyone.
After the win over Australia, I wrote that the victory was
an opportunity that had to be grasped
.
Today was the chance to do that and it was not taken.
I don't say that as a criticism – no one man could have tried harder – but as a fact.
That's what hurts most of all.
An opportunity like today might not come for another twenty or thirty years.
Then again, it could come in four, but even then that will too far away for some of the golden generation.
We laud then.
We thank them.
We appreciate their efforts, toast their successes and today, of all days, we share the pain of their defeats.
They showed the best of a 21
st
Century Ireland – our maturity, our facilities, our tenacity and the pride we have of this nation – in
one of the greatest sporting days
of recent years.
Virtually all of them did the unthinkable just three weeks ago
against Australia
- in a very different way, what happened today was equally unthinkable.
This is not a post-mortem, but they are the achievements of the Irish national rugby team 2000-2011.
Today marks the end of an era.