As part of our preview for Bernard Dunne v Poonsawat, here is a profile of the WBA Super Bantamweight Champion and Ireland's own, Bernard Dunne.
***

The first time I saw Bernard Dunne, professional boxer, was not inside the ring but in a feature on SKY's much-missed boxing magazine show,
Ringside
. They profiled Dunne, who at the time had about seven wins from his first seven fights in the United States. The reporter (I think it was Adam Smith) kept up an Irish tradition in that when he went to visit Dunne, he brought him a present from home, in this case the ubiquitous box of teabags. He may have been all the way over in LA, but Bernard was still Irish, that's for sure.
When it comes to inside the ring, we didn't get Bernard's fights while he was Stateside, but his reputation was growing online. Aside from a few national amateur finals that had been shown on RTE, he existed only in print. He had gone from Neilstown to California, and was managed by Sugar Ray Leonard, trained by Freddie Roach. He was set for big things...but then all those plans changed.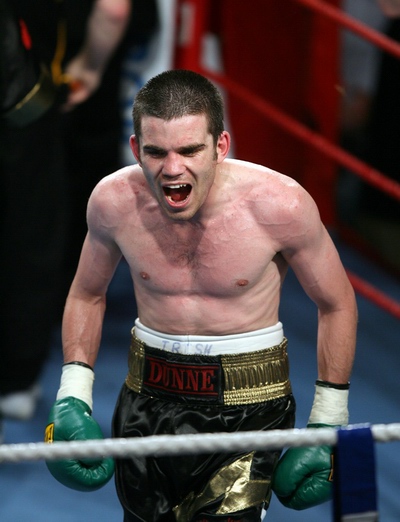 Leonard decided to leave this contender to start his NBC TV series,
The Contender
, leaving our Bernard in the lurch. He was without a manager; he was without a firm future. He was forced to come back to Dublin. Though it didn't seem a good move at the time, this move was to make Bernard Dunne the highest-profile and publicly-available boxer on this island since Barry McGuigan.
Leonard was replaced by Brian Peters, who took advantage of the opportunity. He, and an unlikely RTE television deal, allowed Bernard the opportunity to base himself in Dublin and fight in front of his home fans. He was to give Irish boxing fans our first taste of the sport on the box. We lapped it up.
There were wins over Jim Betts and a scary last round against Yuri Voronin. Dunne made occasional trips to Germany and Italy but by and large, he built up his fanbase in Dublin, so much so that in November 2006, Dunne was able to lure Esham Pickering to Dublin to defend his European title.
It was a hard-fought and well-won points decision for Dunne, and it was the biggest night in Irish boxing since the days of Steve Collins. In under two years, Dunne had gone from career disaster in America, to winning the European Title in front of 9,000 hometown fans. He was one of the biggest earners in his weight division and it seemed like world class opponents would soon be coming our way.
The next chapter of Bernard's career gives his critics plenty of ammunition. He fought a pair of relatively obscure European Title contenders, instead of pushing on like
Peters' own website had proclaimed
. He won those fights comfortably, before the fateful night against Kiko Martinez. Dunne rushed into the fight – it came just nine weeks after his previous win against Reidar Walstad. The curtains were
closing on the Point after this fight
, and Martinez very nearly brought the curtains down on Bernard's dreams in just 86 seconds.
Disaster doesn't sum up how much of a blow this was. Bernard had been all conquering, he had been unbeaten in 24 fights; now he was Bernard 'Dunne in One'. A long rehabilitation process was necessary. Dunne took a break, and when he did return his next three fights came against mediocre South American opponents; two of them were even held in Castlebar.
Then came Cordoba.
While Dunne's career probably didn't merit a shot at a world title, his earning power did. The fact that he had been on RTE for so many years, and was so well known, meant that a World Title Fight in Dublin could sell thousands of tickets, enough to lure Ricardo Cordoba all the way from Panama. Boxing, as the Don King adage goes, is not about what you earn: it's about what you negotiate. Peters excelled, allowing Dunne to challenge for a World Title in his home town.
All Dunne had to do now was deliver, and boy did he do just that. Dunne put Cordoba down early in the fight, but then hit the canvas himself, twice, in the fifth round. It was de ja vu, the Martinez fight all over again. Dunne was once again on the seat of his pants, in the same arena where he'd suffered his worst night in boxing. His supposed weak chin had cursed him again. Yet Bernard Dunne survived through the fifth round, and the rest of the fight, before knocking Cordoba out in the eleventh. It's a good job he did - Dunne would have lost the fight
if the judges were to be asked for their opinions
. But they weren't.
It was one of the most dramatic moments in Irish sports history, and given
what had happened that afternoon
, that's saying something.
You can argue about the merits of the WBA as a body, but Dunne is now a legit World Champion, even if he's not the true cream of his weight division. Unification may come further down the line, but for now Dunne stares into Saturday's bout with Poonsawat. We'll look at him, and at Saturday's event in Dublin, tomorrow night.
***
Remember, The Almost Daily Sports Blog will be LIVE blogging all day Saturday for Bernard Dunne v Poonswat and we want YOU to be involved. Sign up below for an email reminder about the event, and be sure to check back here Saturday for all the build up to the fight, and the atmosphere direct from the O2 Arena.