If more has been written about a game of soccer involving a League of Ireland club, then I for one can't remember it. When did we last see an event that got such press attention? When Shels came so close to the Champions League group stages? When Rovers left Milltown? When J.R. was shot in Dallas?
The talk about the game was dominated by the debut of a wonderkid named Cristiano, but there was to be no waltzing through the Rovers' defence for the Portu-geezer. Instead 'the other Ronaldo' was given a welcome 'not all...fitting the 'friendly' title of this match' or so said
RTE.ie's match report
. The boo boys were out in force, as anyone with even a cursory notice of Tuesday morning's papers would have noticed, but is that as big a deal as some claimed? Were those who booed the most expensive Galactico rude and disgraceful or were they merely doing all they could to intimidate the opposition? I'll leave you to answer that one.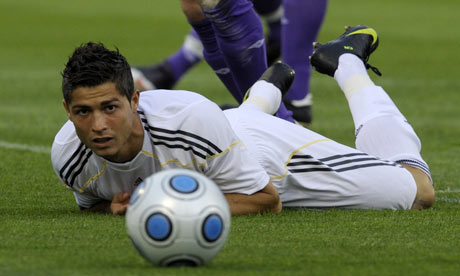 Such an event, of course, drew attention from beyond our little isle as hacks galore descended on North Dublin to report on the debut of the most expensive football side ever assembled (computer games, obviously, not included). Real Madrid TV (available on SKY) reported on their preparations for the game, the preparations which (we were told) took place in Carlton House in 'May-Nooth.' The reporter in question obviously hadn't rambled into the Kildare town for a wander as she struggled with a relatively simple pronunciation.
Still, bad as she was, the reporter in question deserves a Pulitzer when compared to a hack from the normally exemplary Guardian newspaper. Daniel Taylor (who deserves this naming and shaming)
filed a report
which was as inaccurate as a drunken surgeon. Tallaght Stadium, he told his readers, was a 'modest little ground...with a half-built shiny block that, on first glance, appeared to be made out of Lego.' He then went on to call Pat Flynn 'Shamrock's obligatory hard man.' Shamrock, he obviously surmised, was now an actual place! Lovely, just lovely.
Though such blatant mistakes are to be expected from foreign journo's, at least things are different here in Ireland where our domestic press supports the League, right? Wrong. Those who tuned into RTE to watch the Tallghticos on Monday were instead treated to Monday Night Soccer. All well and good, but not being able to see the game on RTE was undoubtedly an underwhelming experience to those in non-SKY land. Probably a similar feeling to that of a Madrid fan who had vested too many hopes in Cristiano.
Instead of the Real match, RTE showed highlights of Rovers' game against Sligo (also known as The Return To Tolka) as part of MNS. Therefore, there was no Benzama or Van Nistelrooy of Madrid, but Boco and Rafter of Sligo. And who was Sligo's answer to Cristiano? Goalscorer Shaun Holmes perhaps? No, wait, he did something of use...
But hey, at least we only missed a friendly. At least RTE or our other terrestrial broadcasters will show us the exploits of Bohemians and co. in Europe this week, yes? Ah...no. Off to the streaming sites I go.
***
This was originally written for the League of Ireland website,
Extra Time
.